Geographical situation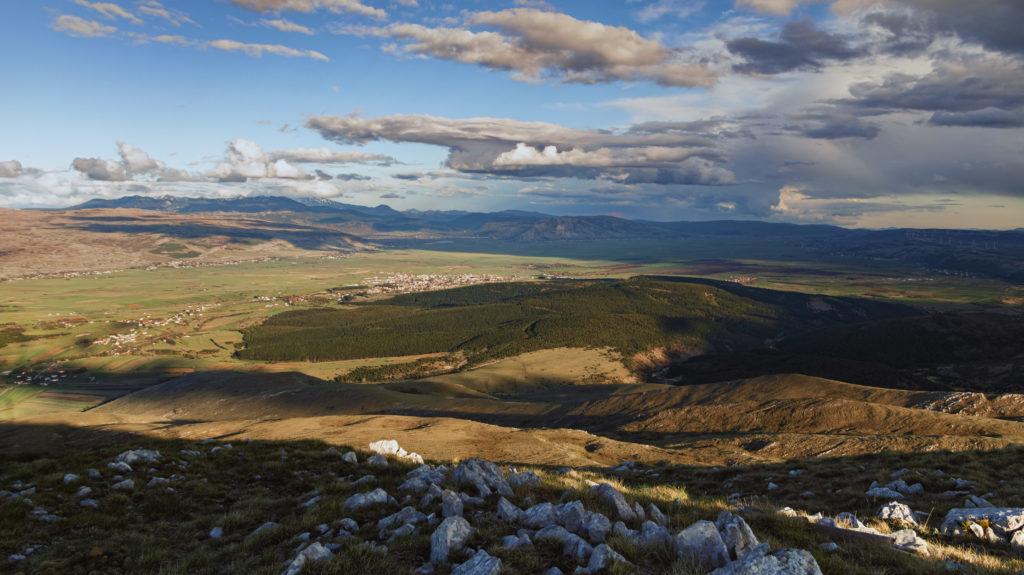 Tomislavgrad is placed in the southern part of the Herzeg – Bosnian County, along the border with Republic of Croatia and Dalmatian hinterland (4 border checkpoints). It is the connection between Bosnia, Dalmatia and Herzegovina, and at the same time it is the hub of the roads which connect Mostar – Banja Luka and Split – Sarajevo. Using the "Kamensko" boarding checkpoint people can get to Adriatic highway in less than an hour and this is our direct contact with Europe.
The Municipality of Tomislavgrad covers the area of 965,771,139 m2, or 966 km2! It is divided into 47 cadastral municipalities and 59 settlements. Five high altitude surfaces of the Municipality are quite rare. Those surfaces are: the wine–growing area of "Vinica" (600 to 650 metres), the area of "Buško Blato" (700 to 750 metres), "Roško Polje" and "Duvanjsko polje" (860 to 900 metres), the plateau of "Šujica" (950 to 1000 metres) and the glacial lake of "Blidinje" (1200 metres).
The geological description of the ground would be high Dinaric karstic terrain which goes parallel with the Adriatic Coast. Both geographically and in terms of climate this is the place where Mediterranean, continental and mountain climate clash so we can expect cold and harsh winters and mild summers. The number of sunny and windy days is almost the same every year – around 280 days (although there is data that here you can expect incredible number of 363 windy days).
Together with favourable geographical position, there are other good grounds, such as over 600km2 of unpolluted pasture, arable lands and fields, the wealth of water potential (2 lakes; "Buško jezero" opens realistic possibilities for investments combining sea and rural eco tourism, and "Blidinje", the glacier lake, gives unforgettable ambiance both in the summer as well as in the winter together with the winter resort "Risovac") and a lot of other smaller water sources, the other winter resort "Čajuša" nearby (30km from the centre of the town), landing strip for small touristic airplanes, numerous deposits of mineral resources (coal – lignite, bauxite, high quality loam, etc.), high efficiency of the wind power, construction of the business zones (one in the close proximity of the town and one near the boarding checkpoint "Kamensko") for economic growth, which is, with all the effort, prospering. This applies to the family businesses (sheep, cow and pig farms), construction industry, wood industry, manufacture of electric cables, small family crafts and other service activities.